So, I made it back to reality! Back to the cold, stubborn Iowa winter. Yes, the calendar may say that it's finally spring, but Mother Nature sure did not get the memo to bring sunshine, green grass, and warmer temps to Iowa.
I'm grateful I was able to escape even for a few days to attend a beautiful wedding with some fun people! I'll get to more details of our trip soon, but thought I'd start off sharing some the things I ate last week while linking up with Jenn at
Peas and Crayons
, who hosts What I Ate Wednesday every week.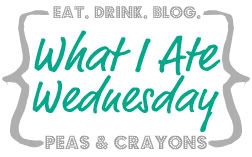 Head on over to
Peas and Crayons
to see what all the other bloggers linking up are eating lately!
In no particular ordered of consumption I...
...sipped on some champagne that was promptly put in our hands after walking into the lobby...and at almost
every
other meal we sat down for. I'm not complaining, but I'm not a huge fan of champagne. I did, however, find a new variation that I love, The David's Especial, aka, apple juice and champagne. Much better than mixed with orange juice in my opinion.
...ate lots of fruit and tried glazed pineapple for the first time. Sugary but definitely worth a recreation!
...tried a dish that mixed grapes, raisins, peanuts and Cornish hen. I'm not usually a fan of mixing those types of things together but this dish that was served at the French themed restaurant really worked!
...stole a couple pieces of duck from Allie, the bride's, plate. She ordered the duck confit salad but wasn't feeling well so left the table for the appetizer course. I took advantage of the empty seat next to me and dug in to try a couple pieces.
...tried several variations of cake. Many dessert offerings at both lunch and dinner means you put a few on your plate and try them all!
...took advantage of my break in
Meatless March
and picked through the bacon container at the breakfast buffet to find the super crispy ones. Those are the only ones worth eating. Most mornings I also added a poached egg to my plate for a least a little protein to start the day. Waffles made a daily appearance, too. The batter tasted like cream puff batter. So good!
...took advantage of the lunchtime fresh guacamole and chips! Not the best I've had, but hey, it's guac!
...ordered this Nicoise salad at the French restaurant. The seared tuna was perfect. I would really like to have this waiting for me at home tonight! Any takers?!? :)
...picked out all the olives from the pasta dish. It was good but I was already stuffed from the bread, olive tapenade, capers, and blue cheese I filled my first plate with.
...tried fresh passion fruit for the first time. I've had it in the passion fruit flavor Chobani yogurt but never fresh. I'm happy to report I'm a fan!
...loved the sushi. They only offered basic rolls as an appetizer for our hibachi dinner but I was glad to get a fix! I didn't get a pic of the other food we had that night but it was all really good. Might have been some of my favorite fried rice I've ever had.
...had another morning staple- yogurt with walnuts and some fruit! This time I found some plain yogurt and mixed in a little strawberry and pineapple jam.
...ordered room service! You can't visit an all-inclusive resort and not order room service at least once! For lunch on the wedding day I ordered a tuna sandwich, tomato basil soup, and cheesecake for an easy lunch while getting ready for the later afternoon nuptials.
...regret only having one piece of this amazing wedding cake. It was my favorite type of frosting, light and whipped and not too much sugar. And marble cake, the best of both worlds! I can never choose between vanilla and chocolate cake.
I'll be back to show all the amazing views I saw all week. You will all definitely be jealous! Here's a sneak peak :)