I have never been a huge fan of meat. Sure, I love a good steak every once in a while. And I could eat chicken a few times a week, but I actually prefer to get my protein from other sources. Beans, hummus, boiled eggs, huge salads with LOTS of vegetables. I always stock up on chicken breasts when they're on sale, but when those are still frozen or all gone, I turn to other things to fill me up.
When I was in Costco a few weeks ago, I spotted these Mediterranean Chickpea and Spinach Patties. I immediately threw em in the cart. Easy, non-meat protein. And only $9.99 for 16 patties! Score!! Not to mention that Mediterranean flavors are one of my favorite!
Kaydin and Tim like them, too! I've already gone through two packages! All you have to do is heat them in the oven at 375 degrees for 15 minutes. Pair them with a salad with whatever vegetables you have on hand and you have yourself a full meal! Pictured above I added kalamata olive hummus (any hummus is great with them, though) and homemade tzatziki sauce- no calorie laden salad dressing needed for this salad! The tzatziki didn't have the consistency I was hoping for so I'll have to try that recipe again before I share here. It still tasted great, though!
And the nutritional stats on these are also a winner! Only 120 calories per patty, 5 grams of protein, 5 grams of fiber and no artificial preservatives or flavors!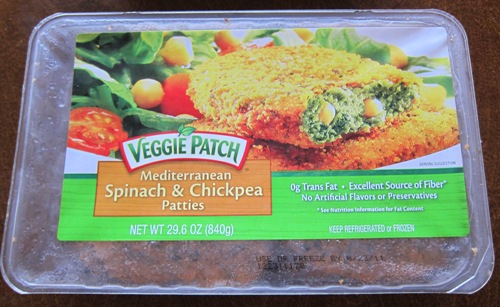 (
Source
)